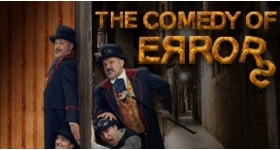 Hello from Oddsocks HQ where we are firmly locked down and isolated. We appreciate the current situation will be affecting you in so many different ways and we wish everybody well with your individual circumstances.
The summer tour of " The Comedy of Errors" has had to be cancelled due to the ongoing Covid-19 crisis. We are planning on touring the production originally planned for tour this summer during the summer of 2021 and we are currently negotiating dates with our regular and some new venues and all parties will be keeping up to date with public guidence with regard to health and safety at public events going forward.
In the meantime, to keep spirits up and to support our community of freelance actors and creatives, we are creating a series of Stay Home Shakespeare performances live edited from our home to yours. The next performance will be of "A Midsummer Night's Dream" on Friday 19th June at 7pm and you can tune in to watch us live as we perform by going to:
https://thestreamingtheatre.wixsite.com/home.
We also post a recording here on our website after the event which you can watch by going to:
https://www.oddsocks.co.uk/online-performance-donations any time after the event.
Our online performances are free to view, however, if you are in a position to be able to donate anything, this is distributed amongst the creatives involved in each production. Oddsocks' and our freelance creatives' income has been decimated by this crisis and currently, donations are our only source of income. Thank you for your continued support and we look forward to touring again in happier times.