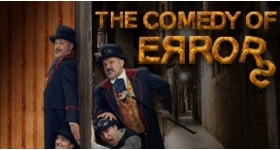 Hello! We are currently unable to tour due to the temporary closure of many of our regular venues. Our summer 2020 production of
" The Comedy of Errors" was postponed due to Covid-19 crisis. We are planning on touring the production next summer and we are currently negotiating dates with our venues and keeping up to date with public guidance with regard to health and safety at public events going forward.
Our first application to Arts Council England for emergency funds to see us through the crisis was unsuccessful and, undeterred, we have applied again we will let you know the outcome as soon as we know. We were delighted by the enthusiastic response to our appeal in May to our followers and fans who donated a significant amount to allow us to stay in business until now and this generosity meant that we were able to create a series of live-edited online performances which can be watched by clicking on the following link to our "Stay Home Shakespeare Page" These were created in collaboration withThe Streaming theatreOur online performances are free to view, however, if you are in a position to be able to donate to our work in general, you can do so by clicking the following link: https://oddsocks.cloudvenue.co.uk/supportoddsocks We look forward to touring again as soon as possible. Stay safe and thank you.