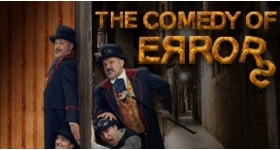 Hello from Oddsocks HQ where we are firmly locked down and isolated. We appreciate the current situation will be affecting you in so many different ways and we wish everybody well with your individual circumstances.
The summer tour of " The Comedy of Errors" is currently Oddsocks only source of income and is diminishing every day. We have not officially cancelled it yet, instead we are holding out until such time as we know for certain what will happen with performances in the summer months.
In the meantime, to keep spirits up and to support our community of freelance actors and creatives, we will be releasing videos of past performances on our YouTube Channel OddsocksComms, which you can subscribe to here: https://youtube.com/c/OddsocksComms
We will only tour and perform if it is safe to do so but ever the optimists we hope that some performances of The Comedy of Errors may go ahead but we don't know which ones and we don't know when we will know either.
So for now there will be a new video every week, starting this Friday (27 March) . These shall be free to view but if you enjoy them we'd be delighted if you are able to support the freelance creatives who made them by donating via our 'Online Performance Donations' page on our website.