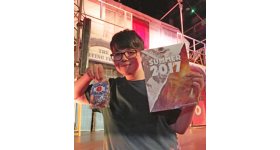 Jack is 12, home educated and will be studying Romeo and Juliet for his English GCSE next year. He came to see Romeo and Juliet at The Belgrade Theatre, here is his review:
Rocking Rivals!
Oddsocks Productions returned to The Belgrade Theatre in Coventry this week with its summer tour of Romeo and Juliet. In true Oddsocks style, this was no ordinary Shakespeare tragedy but a full two hours of high-energy fun, audience participation, lively music, comedy and laughter, set in the 1960's yet remaining true to the Bard's original Elizabethan script.
In this production, the Montagues are Mods in their suits, ties and parkas and the rival Capulet family are leather-clad Rockers and from the start, the audience is drawn into the gangs' feud. Romeo and Juliet meet and fall in love at the Capulets' Cavern of Rock, whilst Capulet plans for his daughter to marry guitar-legend, Jimmy Paris.
Most of the team play two roles in the show as well as performing in the onstage band, demonstrating their endless talents both as musicians and actors. Highlights include Andy Barrow's interpretation of Capulet, complete with fringed leather jacket, pot belly, rock star wig and Black Country accent. His acting expertise came to the fore when he managed a full-scale argument with himself, playing both Capulet and Tybalt on stage at the same time complete with accent and costume change with every line!
All of the cast played their roles with true professionalism. Alexander Bean, a newcomer to the Oddsocks company was hilarious as the Rastafarian Frying Friar Lawrence, the owner of the local burger bar. His rendition of MC Hammer's "Can't Touch This" had the audience in hysterics, breaking the tension of the dramatic murder scene.
The play combined spectacular stage combat with heartfelt emotion and a medley of lively music including Black Betty and Every Breath You Take and ending with Enjoy Yourself (It's later than You Think), a strangely fitting finale number.
The lead roles of Romeo and Juliet were played beautifully with some charming moments of affection combined with comedy genius between the rock-chick, saxophone-playing Juliet and the geeky boy-band character of Romeo. The nurse, played by Oddsocks regular, Rebecca Little, added comedy and colour and a touch of rock 'n roll to the play.
The production crew did a great job with a simple yet effective two-storey modular set, perfect for touring and the inclusion of a motorbike, scooter, leathers and parkas perfected the sixties sensation.
For those school children in the audience who were experiencing Shakespeare for the very first time, they will certainly have gone away with a much more positive feeling towards the play than those who remember dull, difficult and dreary English lessons. Oddsocks provides a superb opportunity to introduce classic stories that will appeal to everyone, young and old alike.
The show tours the UK until September with a combination of open air and indoor venues including Shakespeare's own Mary Arden's Farm near Stratford upon Avon. The team are also touring its steam-punk themed version of Macbeth and have recently announced a tour of The Wizard of Oz in the autumn/winter. Tickets and more information are available at www.oddsocks.co.uk
Don't miss a chance to experience some Shakespeare, rattle and roll!
5/5
Jack Thomas, Age 12
Kenilworth, Warwickshire