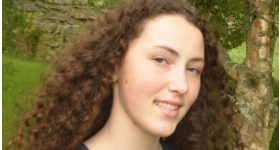 Bryony Agar, Age 14
Romeo and Juliet at Queen's Hall Arts Centre, Hexham
Oddsocks burst onto stage with another fantastic performance at The Queen's Hall in Hexham. The show was an almost pantomime-esque, Mods and Rockers version of Romeo and Juliet. Previously, their summer shows have been outside which I must say I preferred as it added uniqueness and a more inclusive atmosphere. However, it was pouring down with rain on the night so perhaps it was better that it was indoors!
I loved the way that they interacted with the audience through the whole show, including at the start and the interval. It grabbed the attention of the audience and made us feel like we were part of it as we supported our mods/rockers. Each character was full of life and energy. With ongoing action and a simple yet effective set, the play was a huge success. And it is the beauty of Oddsocks that each mistake or forgotten line is part of the performance and makes it even funnier as they constantly break the fourth wall.
However, it was occasionally bit hard to hear what the actors were saying. Some spoke a bit fast at the beginning and with it being Shakespeare as well which is hard to decipher at the best of times, the words were a bit lost.
Each of the actors played at least two instruments and the music itself worked really well to bring Shakespeare to life in a way that we understand. Gestures, expressions and tone all helped to make the old Shakespearean language relatable and relevant. In fact, I think this is similar to the way he would have wanted it to be performed. He wasn't just a master wordsmith who composed eternal plays – he was an entertainer. I think this has been lost over the years until Shakespeare is just the stuff of essays and exams. It is really great to see it performed this way and was huge fun for everyone.