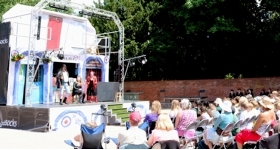 Nick Butcher came to Oddsocks for Work Experience from 12th - 16th June 2017. Here's what he made of his week:
I was greatly excited when I received confirmation that I would be spending a weeks work experience at Oddsocks. Through knowing people involved in the company I had always admired their work from afar as it incorporated some of my favourite things: Shakespeare, Comedy, Theatre, and Adaption. However now I was going to see intimately how the company worked and I could not wait.
The week did not disappoint. I spent the first two days working in the oddsocks' office with oddsocks' producers Elli and Hope. Over the two days I helped complete postcards for marketing, completed a PRS form ( The form needed get licensing for all the wonderful songs oddsocks use), and helped research for an upcoming project. In addition I got to grill Hope and Elli about all they do, and what it practical takes to run a nation wide theatre tour. You always fear that in work experience you won't actually do anything useful, but instead will end up making endless cups of tea. However here I felt as if I had actually helped the company, and further more I gained a lot of knowledge and insight from it.
With this in mind I moved on to the rest of the week, spent in Markeaton Park craft Village where the performances of 'Romeo and Juliet' were taking place that week. On a sunny we Wednesday afternoon we arrived at Markeaton where proceeded to 'get in' (The name given to getting all set and props into the space in which you are performing) to the craft village. It was great to see the other end of what oddsocks does, and I don't think I would have appreciated or gained from it as much if I hadn't spent the prior days in the office. Wednesday evening was a performance, it was the first time I had seen the show (which was great) I also worked on the merchandise stand, which was a lot of fun. Thursday was a two show day, the first being a matinee performance mainly for local schools. Again I sold merchandise, but Elli had also asked me to do notes during the performances, noting on what had changed from the previous evening. It was interesting to see how a show changes across performances, and try to figure out what that is down to. There were two further performances, on the Thursday and Friday evenings and then we had 'get out'(When you get out of your performance space) While this was a late night, it was also a lot of fun getting to help and see the company off.
Overall the week was invaluable. I gained so much knowledge into the running of the company, and also had a lot of fun. I looked forwards to working more with oddsocks in the future!
Nick Butcher