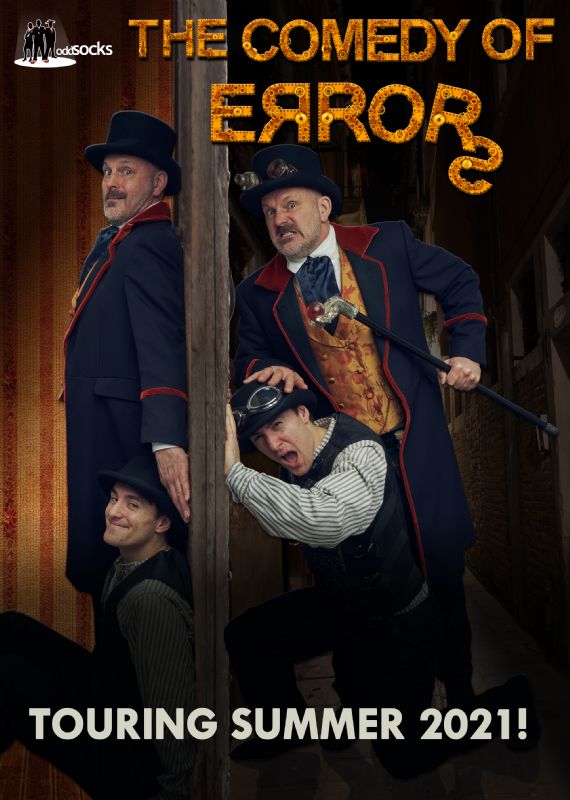 THE COMEDY OF ERRORS
By William Shakespeare
Oddsocks is delighted to be planning a tour of this production which had to be cancelled in 2020 due to the Covid pandemic. Oddsocks founders, Andy Barrow and Elli Mackenzie return to appear together in this new production. We are currently finalising our schedule and details of where we are appearing and how to book tickets can be found below.
Running time: 2 hours inc interval
A servant and master from far off Syracuse arrive in Ephesus in search of their long-lost twin brothers.  In no time at all they are trapped in a terrifying chain of chaotic events.
Tormented by a wild wife, a moody mistress, challenged by a crazy jeweller and damned by a demonic doctor the terrified twosome run headlong into a climactic happy ending which defies all probability.
A summer delight not to be missed!
"Outrageously funny, a joy, with neatly-engineered slapstick"
NOTTINGHAM POST
"This is ensemble playing at its most compelling"
THE STAGE ★★★★
The Comedy of Errors
Date/Time
Venue
Town/City
Telephone
Online

10 Jun, 7:30pm

11-12 June, 2pm & 7:30pm

Theatre Royal Bury St Edmunds

(Indoor reduced capacity)

Suffolk

01284 769505

Event has passed

14 & 15 Jun, 7:00pm

16 & 17 June, 1:30pm & 7:00pm

Belgrade Theatre

(Indoor reduced capacity)

Coventry

024 7655 3055

Event has passed

24-26 June, 7:30pm

Markeaton Craft Village

(Open Air)

Derby

01332 255800

Event has passed

27 June, 6pm

Gawsworth Hall

(Open Air)

Cheshire

01260 223456

Event has passed

29 June, 7pm

Middleton Park

(Open Air)

Leeds

Event has passed

1-2 July, 7:00pm

Workington Hall

Cumbria

Event has passed

4 July, 5:00pm

Mansfield Palace Theatre

(Open Air)

Nottinghamshire

01623 633133
Event has passed

6 & 7 July, 7:30pm

RHS Harlow Carr

(Open Air)

Harrogate

01423 562303

Event has passed

8 & 9 July, 7:30pm

Kirkleatham Museum

(Open Air)

Redcar

Event has passed

10 July, 7:30pm

11 July, 2:00pm & 7:30pm

Midlands Arts Centre

(open air)

Birmingham

0121 446 3232

Event has passed

13 July, 7:30pm

Castle Theatre

(Indoor)

Wellingborough

01933 270 007

Event has passed

14 July, 7:00pm

Theatre Royal

(Indoor)

Winchester

01962 840 440

Event has passed

16 July, 7:30pm

Palace Theatre Newark

(Indoor)

Newark

01636 655755

Event has passed

17 July, 6:30pm

Avoncroft Museum

(Open Air)

Bromsgrove

For venue information

contact

01527 831363

Event has passed

24 July, 6:00pm

Jubilee Field

(Open Air)

Hatton
07398 162834
Free Event!

25 July, 6:30pm

Abbey Vicarage Gardens

(Open Air)

Tewkesbury

01684 295074

Book Now

29 July, 7pm

Painshill Park

(Open Air)

Surrey


01932 868113


Book Now

30 July 7pm

31 July 2pm & 7pm

Brighton Open Air Theatre

(Open Air)

Brighton & Hove

Book Now

2 - 11 August, 7:30pm

Coronation Park

(Open Air)

Jersey

01534 700444
Book Now

20 August, 7:30pm

21 August, 2pm

22 August, 12:30pm

La Seigneurie

(Open Air)

Sark

01481 832175
Book Now

26 August, 7:30pm

The Place

Telford

01952 382382

Book Now

27 August, 7:30pm

Mary Arden's Farm

(Open Air)

Wilmcote

01332 258328

Book Now

28 August, 6:00pm

The Coach House

(Open Air)

Lea, Matlock, Derbyshire

01332 258328

Book Now