THE BARD'S BEST BITS OF MACBETH AND MUCH ADO ABOUT NOTHING!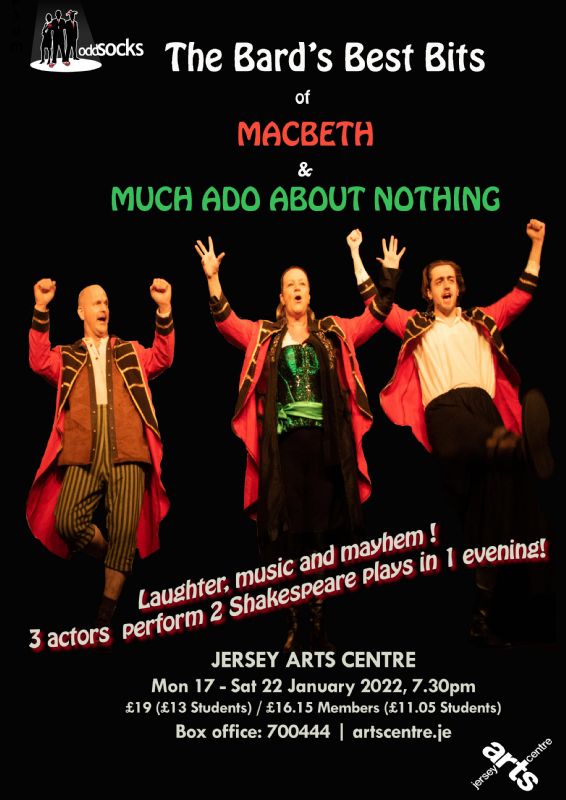 Prepare for wicked witches, witty lovers, clever disguises and life-sized dummies as Oddsocks return to Jersey with two comedy Shakespeare plays for all the family.
Andy and Elli from Oddsocks are joined by Jack Herauville (famous for his show-stopping 'fisherman' in last summer's The Comedy of Errors) as they perform Shakespeare's darkest tragedy and wittiest comedy in just one evening.
No boring bits, only the Bard's Best Bits!
"Shakespeare would be proud to see his work still bringing people together like this" - Nottingham Post
"Hugely funny" - The Stage, 4 stars
Oddsocks workshops are also available to accompany this production!
Join Oddsockers, Andy, Elli and Jack and learn about acting, directing and presentation techniques! Just bring along your sense of humour and meet others who want to have a go at being an Oddsocks performer!
No previous experience necessary. Suitable for ages 18+.
If you are interested in booking this production and accompanying workshops for your venue or organisation, please contact Elli at elli@oddsocks.co.uk for more information and available dates.
Date/Time
Venue
Town/City
Telephone
Online

17-22 January, 7:00pm

Jersey Arts Centre

Jersey

01534 700444

Book Now

Oddsocks Workshop (Ages 18+)

22 January, 10:00am - 1:00pm

Jersey Arts Centre

Jersey

01534 700444