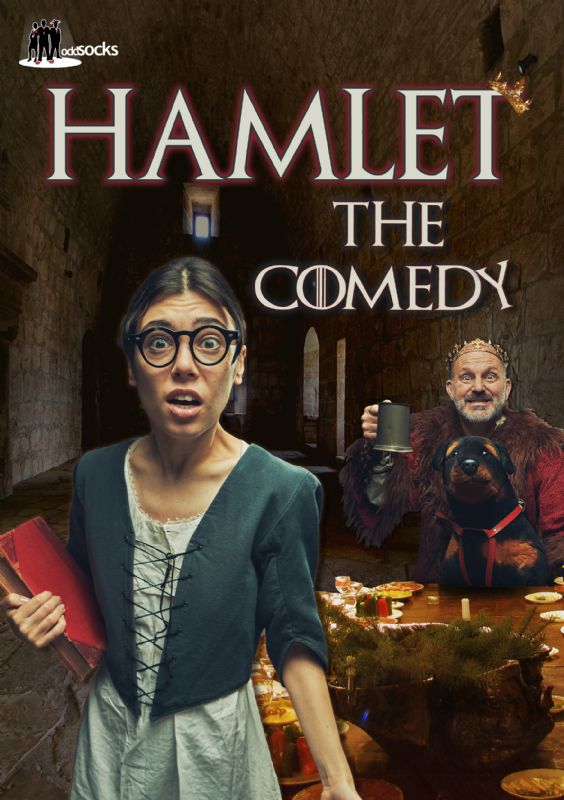 HAMLET THE COMEDY
Oddsocks are delighted to be planning a brand new adaptation of Hamlet The Comedy for Summer 2022! We are currently finalising our schedule and details of where we are appearing and how to book tickets will be available soon!
Running time: 2 hours inc interval
"Hamlet The Comedy" finds the eponymous royal student returning home for the summer holidays to find something rotten in the state of Denmark and it's more than just the bag of dirty washing! Mum's married Uncle Claudius and Dad's dishing the dirt from his grave – it's enough to make a teenager mad! Things will never be the same again in the Hamlet household...
Shakespeare's famous tragedy is performed as you've never seen before with lots of laughs, music and memorable moments.
Suitable for all from 7-107.
"Outrageously funny, a joy, with neatly-engineered slapstick"
NOTTINGHAM POST
"Oddsocks excels in an entertaining show which succeeds as both farce and a perfect introduction to Shakespeare."
THE STAGE ★★★★
Please note, we are still working hard behind the scenes, discussing additional performances and therefore further venues will be added into the tour schedule and announced once confirmed!
Hamlet The Comedy
Date/Time
Venue
Town/City
Telephone
Online

7 June, 7:30pm

The Church Green

Much Wenlock

Book Now

9 June, 7:00pm

10 June, 12:30pm (schools) & 7pm

11 June, 2:00pm & 7:00pm

Brighton Open Air Theatre

Hove

Book Now

14 June, 7:00pm

15-16 June, 1:30pm & 7:00pm

Belgrade Theatre

Coventry

024 7655 3055

Book Now

17 June, 7:30pm

The Place

Telford

01952 382 382

Book Now

18 June, 6:00pm

Jubilee Field

Hatton, Derbyshire

For more information:

07398 162834


FREE EVENT!

19 June, 6:30pm

Tamworth Castle

(Lower Lawn)

Staffordshire

01827 709618

22 June, 7:30pm

23-24 June, 2:00pm & 7:30pm

Theatre Royal Bury St Edmunds

Suffolk

01284 769505

Book Now

26 June, 6:00pm

Gawsworth Hall

Cheshire

01260 223456

Telephone bookings only

30 June, 7:00pm

1 July, 7:00pm

Workington Hall

(FREE EVENT!)

Cumbria

01900 702986

More Information

2 July, 7:00pm

Middleton Park

Leeds

FREE EVENT!

3 July, 5:00pm

Carr Bank Park

Nottinghamshire

01623 633133

Book Now

5-6 July, 7:30pm

Harlow Carr Gardens

(Harrogate International Festival)

Harrogate

01423 562303

Book Now

7-8 July

Kirkleatham Museum

Redcar

Book Now

9 July, 7:30pm

10 July, 4:00pm

Midlands Arts Centre

Birmingham

0121 446 3232

Book Now

13 July, 7:30pm

Theatre Royal

Winchester

01962 840 440

Book Now

14-16 July, 7pm

Markeaton Craft Village

Derby

01332 255800

17 July, 6:30pm

Victoria Gardens

Tewkesbury

01684 295074

Book Now

20 July, 7:30pm

Nottingham Castle

Nottinghamshire

Book Now

21 July, 7:00pm

The Coach House

Matlock, Derbyshire

0333 666 3366

Book Now

22-23 July, 7:30pm

Mary Arden's Farm

Wilmcote

For venue queries

01789 338535

phone bookings

0333 666 3366

Book Now

24 July, 6:30pm

Avoncroft Museum

Bromsgrove

0333 666 3366

Book Now

26-29 July, 7:30pm

Sausmarez Manor

Guernsey

For telephone bookings

0333 666 3366

For venue queries call

07911 741097

Book Now

1-10 August

(Except 7 Aug)

Coronation Park

Jersey

700444

19-20 August, 7:30pm

The Vicarage Garden

Sark

01481 832175

Email

suedalysark@icloud.com

to purchase tickets