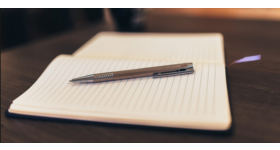 Tips and Tricks on Writing A Good Review from Journalism Graduate Gemma Hirst!
Gemma Hirst is a Journalism Graduate from the North East, she currently blogs about North East Culture and her Journalism Journey.

​https://journogemmahirst.wordpress.com
There are different approaches when you write a review:
1 - During the performance you can have a small notebook and pen and write notes as you go. Though be careful not to focus too much on what you are writing as you may miss an important part in the performance!
Only write something down that has stood out for you- that you think you may not remember after the performance.
If you are going to write down notes during the performance, do not disturb other audience members. Remember you are not the only one there!
2 - After the performance, find a quiet spot and start to write the review.
Sometimes I find it easier to literally start writing down sentences or small paragraphs that may be useful for you when typing the review up ready for publication.
It does not have to make sense even if you just write down your first reactions/ thoughts of the performance; it means that when you come to typing the review up it can help when you get those writers block moments (we all get them).
3 - Talk to others about the performance, why not have a discussion with others about what you liked and didn't like about the performance. It may give you a wider aspect of the play and can help when you are struggling to get your view written down on the page. But remember it is you who is writing the review, not them so don't let their view influence your opinion.
So what goes into a review?
There is no strict rule on what you have to include in a review but you can use this as a guide for a structure or just to act as some starting points.
It is really important to engage with your readers and keep them interested in your review:
Open with a punchy paragraph, the first few lines should catch the reader's attention for example- Imagine if the Tweenies, Bill and Ben the Flower Pot Men or any other children's TV show turned into a piece of political performance and it was to be played live at Northern Stage, then  How To Occupy an Oil Rig would be the result. (From my review of How To Occupy an Oil Rig)
Write a brief summary of the plot; don't give too much away! It just a broad analysis of the plot, try not to give every detail away.
It may sounds horrible but assume your readers are stupid , not all of your readers will know about each play as even the most well known plays will be new to someone.
THINGS TO THINK ABOUT:
Is there anything special about the production, is it the first time an actor has played this role in this play or is it the anniversary of the production etc?
When reviewing the performance, think about how the actor has portrayed the character? Have they used vocals or physicality well or was there any chemistry between the characters?
You don't need to mention all the actors, just pick the ones that have made an impact on you.
When you talk about what worked/ did not work well, make sure you justify those views. Maybe compare and contrast, balance the good and bad comments.
Don't be afraid to make criticism, if you didn't like something about the play, say so but just make sure that criticism is constructive.
Be concise, it is not an essay, the catchier the better.
If you can try and include a catchy quotable line in your review, it makes your review memorable.
Be honest and don't be afraid to shy away from be negative but remember saying "Joe Blogs can't act" should be avoided, you need to justify negative comments.
I'd recommend a review for a full length play should be around 600 words.
Try to find your voice; none of my reviews are formal. Just picture it as if you have just been to see a show and your friend has asked you what did you think of it and go from there.
Writing reviews it not like writing an essay for your homework, it is meant to be fun and if you are not having fun writing a review then no one will enjoy reading it!
Enjoy it!
From Gemma x