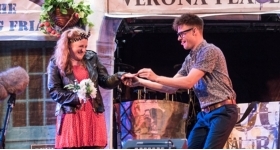 Are you aged between 12 - 18? Interested in writing and sharing your opinions?
Become a YOUNG REVIEWER for Oddsocks!
First things first – find you local performance! Visit our box office where you find a full list of everywhere we'll be touring too and how to book tickets.
CLICK HERE to download your voucher for a free programme and £5 to spend at the merchandise stall. The programme has lots of information about all the actors, Oddsocks as a company and the plays.
On the night of the performance... bring along a notepad, pen, some snacks (of course!) and if it's outdoors, get there early to secure a good spot. Don't forget your voucher for merchandise and a programme too!
When the performance starts here are some things to be thinking about:
What is the most striking thing about the set? Visually what does it look like and why might we have chosen to do that?
What are you enjoying? Why do you think you're enjoying it?
Is this how Shakespeare is 'normally' thought of? What's different?
If applicable, what impact does being outdoors have on the performance?
Is there anything about the performance you would change?
Is there are a particular actor who stands out? Why is this?
What do you think of the integration of music and Shakespeare? Does it work?
What are the costumes like?
Obviously we could go on and on...
Here's some tips for writing the review:
Try not to just describe what happened. Remember, this isn't an exam – it's about whether you enjoyed the performance or not!
Start with a bit of background about the production and company, a summary of the plot and what it looks like. This helps set the scene for those who haven't seen the show!
Don't scribble notes the whole way through – you might miss something! Take time at the interval to make notes but try and experience the performance as much as possible.
• Don't leave it too long to write the review! Fresh opinions and ideas will be easily to write, rather than trying to remember two weeks later.
• If you are writing your review, around 500 words is perfect – you want to give enough detail but not write an essay!
Of course, you don't have to WRITE it traditionally – here are some other ways to present your review:
A diary entry
A podcast / video blog (let us know if you want to do this and we'll try and get you the chance to chat to an actor on the night!)
A poem
... and anything else creative you can think of! Just make sure it can be shared digitally and that you're happy to share it with people as it will be up on our social media and website!
Once you've written your review - send it to elli@oddsocks.co.uk along with your full name, age and a photogrpah!
We look forward to welcoming you to a performance!
Any questions? Email info@oddsocks.co.uk or tel: 01332 258328