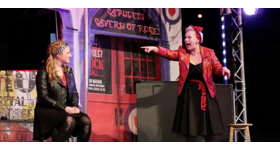 Dear friends,
We hope everyone had a fantastic Bank Holiday weekend. Our team of actors currently rehearsing Macbeth enjoyed some days of rest before we head back into our final week of rehearsal!
The last month has been hugely busy for Oddsocks! We've rehearsed and opened Romeo and Juliet at Lichfield Garrick and the Y Theatre to great success. You can watch the trailer by clicking here and we had some fantastic reviews from Behind the Arras blog and Weekend Notes. Thanks to everyone who came along and supported the show. Anyway, we're back rehearsing for Macbeth before both shows go out on the road from 6th June. You can find all of our tour dates on our new website.
We're also delighted to be proving one of our costumed characters (Sir Joseph Paxton!) for the RHS Show at Chatsworth House in Derbyshire, you can buy tickets and find out more information about the first time the RHS and Chatsworth have partnered here.
It's a short and sweet Herald this month as we're all systems go! We look forward to welcoming you to a performance very soon! Next stop, Queen's Hall Arts Centre in Hexham!
See you soon! Thanks as always for your continued support,
All at Oddsocks