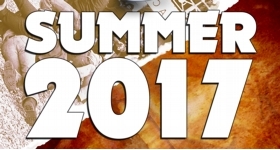 Dear Friends,
What a busy month March has been at Oddsocks! We feel we've barely stopped for breath and it's full steam head towards rehearsals for Romeo and Juliet and Macbeth which begins in May. We've held auditions, recalls, decided on our winter tour title and even managed to squeeze the elephant into a storage facility. In this Herald you'll find our full summer 2017 tour dates as well as our cast for our summers adventures AND and announcement of what we'll be touring from November 2017 - Feb 2018!
We are delighted to be welcoming back Gavin Harrison and Rebecca Little to join Andy Barrow on the road this summer. Both Rebecca and Gavin have toured with us for the past two summers and we just can't seem to get rid of them! New to Team Oddsocks this year is Pippa Lewis, Alexander Bean and Matthew Burns! Pippa will be our rock-chick Juliet and Ross/Fleance/Witch and is an accomplished actor-musician who spent her last summer touring The Tempest with Quantum Theatre. Her Romeo is Matthew Burns, last seen in Stafford Gatehouse's Rock and Roll Panto. Ironically, Matthew has also just finished touring a production of The Jungle Book with Sixteenfeet Productions! The final addition to the cast is Alexander Bean, who'll be joining us to play Mercutio and the Friar as well as Macbeth's best mate, Banquo! Alexander is a proficient drummer and trained chef! So we are delighted to be welcoming him (and any cakes he wishes to bring!) into the rehearsal room.

In the spirit of announcements and the future we are very excited to reveal that our production next winter will be a new comedy and suffiently 'Oddsocked' production of L. Frank Baum's classic The Wizard of Oz.
Thanks as always for your ongoing support and laughter! Come rain or shine, we hope to see you at a show soon!
Best wishes from all at Oddsocks!