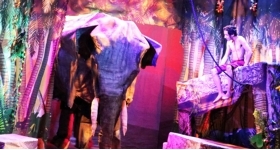 Dear Friends,
Happy New Year! Can we still say that? Is that allowed? I hope so. We hope you all had a brilliant Christmas! Thanks to everyone who came to enjoy the performances at Queen's Hall Arts Centre, Hexham over the festive period - what fantastic audiences! Likewise, to everyone who has come to join us in the jungle throughout January, we've had a brilliant time and hope you did too. Things have been really busy at Oddsocks as we head into 2017 with lots of plans, lots of plays to create and lots of ideas! In January, we spend a lot of time finalising bookings for the summer tour (although most venues book a year in advance!) and our summer tour schedule will be released in Spring.
In other news, our lovely Juliet (Lucy Varney) from our October library tour is in rehearsals forRomeo and Juliet (again!) with the Young Shakespeare Company. Also, Anna Westlake (Hero in Much Ado last year) joins the cast of Alan Ayckbourn's Henceforward which is touring in January and February. Catch them if you can!

We're also really pleased to announce that through facepainting donations taken at Queen's Hall Arts Centre in Hexham, Charlie (Andy and Elli's daughter!) on behalf of Oddsocks managed to raise £200 for West Northumberland Food Bank! A fantastic achievement!
The Jungle Book continues to delight audiences as the tour continues. We've had a number of reviews which you can read here and audiences feedback (which we think is even more important) is great too! "Fantastic fun!" "The best one yet!" and will have you "roaring with laughter!"
The Jungle Book continues to tour and you can see where we are headed by clicking here. Finally, could you help promote upcoming Oddsocks performances of The Jungle Book? We're on the look-out for ODDSOCKS AMBASSADORS? So... what do you have to do? Simply email hope@oddsocks.co.uk with your name and postal address and we'll send you the marketing materials.. then share flyers/postcards/posters with friends, family, cafes, clubs, neighbours, neighbour's dogs.. and spread the word!

We hope to see you at a performance soon and thanks, as ever, for your support.
Best wishes from Oddsocks HQ!