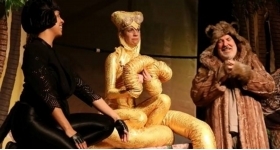 Dear Friends,
Well then, The Jungle Book set, props, costume and giant elephant are tucked away in our not-so-glamorous storage facility as the tour has come to an end. Since first starting the tour in November we have toured the UK and Channel Islands and giving over 60 performance of our adaptation of Rudyard Kipling's classic. Thank-you SO much to everyone who came along, who told their friends, who shared our posts on Facebook, watched the trailer, shared your sweets, joined the wolf-pack and laughed along!

The last performance of the show at The Castle Theatre in Wellingborough was a real 'the show must go on' scenario for Oddsocks. Jora Singh, who has been playing Mowgli for us was suddenly taken ill about 4 hours before performance and taken to a local hospital. He's now recovering well but it meant that he was unable to perform. Luckily, The Family Oddsocks came to the rescue as Andy and Elli's children, Charlie and Felix, stepped up to the challenge and shared the role between them. Charlie, who has seen the production over 20 times over the tour took the first half on (with no script I might add!) and Felix (having only seen the show once) braved the second half with script in hand to complete Mowgli's journey. A huge thank-you to such a supportive audience who made the last performance of The Jungle Book so memorable!
As well as happy memories we've been left with a handful of our 'It's a Jungle out there!" Oddsocks Tea Towels! Want to get your paws on them? Email hope@oddsocks.co.uk to order yours now! Just £5.00 including postage, what a bargain!
On the subject of preparing for summer, might you be able to spread the word and become an Oddsocks Ambassador? We're on the lookout for local people to spread the word about our performances. If you think you can help then please email hope@oddsocks.co.uk with your name and postal address. We send you the leaflets and posters, you spread the word and it's as simple as that! Not sure if we're touring near you? Drop us an email with your address and we'll let you know the closest venue!
Although The Jungle Book may be over it's full steam ahead as we prepare for our summer tours: Macbeth in rep with Romeo and Juliet!

We have auditions early March, casting decisions to make, flyers to print and tickets to get on sale. There's also some other changes on the horizon as we'll have a new website and ticketing system up and running ahead of the summer performances. Keep an eye out for those!
Thanks for reading and catching up with the February Oddsocks Herald! In the next month we'll be releasing our summer tour dates... roll on picnics, the great outdoors and musical Shakespeare!

Best wishes and thanks as always,
Oddsocks HQ! x