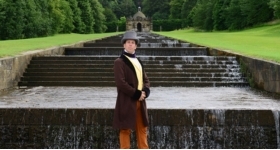 Dear friends..
Well, December you are here again! Our Herald comes slightly early this month in order than we can wish you all a very Merry Christmas. As we near 2017, the New Year is a time for reflection (Aa well as bubbly drinks and leftover Christmas pudding) and we're proud to say it's been another fantastic year for all at Oddsocks, and my oh my, it's been a busy one!
JANUARY saw us continue with our tour of The Legend of King Arthur, in January we headed over to Guernsey and Jersey with the tour as well as Derby Guildhall and a number of other venues! The show had a great response and you never know.. there might be a sequel on the horizon!

FEBRUARY The Legend of King Arthur tour finishes, we had a great time visiting new venues in February including Felixstowe Spa and Mansfield Palace.. both of which we are delighted to be returning too with The Jungle Book!
MAY Rehearsal month and opening of our summer 2016 tour of Macbeth and Much Ado About Nothing! Jam-packed month full of a lot of laughs, late nights and plenty of hard work from the cast!

JUNE The tour continues and we visit new venues including Bedford Park, Lichfield Garrick, Belgrade Theatre and Brighton Open Air Theatre! 25 performances this month..
AUGUST took us across to the Channel Islands for our yearly stint on Jersey and Guernsey then back to the mainland for the final performances.. another 23 performances in August! The costumed characters also continued throughout the summer holidays at Chatsworth House. It was also announced that our bid to produce a tour of Shakespeare in Libraries in October had been successful with West Midlands Libraries and Arts Council England!
November we headed into rehearsals for The Jungle Book and only had 2 (and a bit!) weeks to rehearse before opening on the 30th November.Check out rehearsal photographs here... We also were commissioned to provide ballet dancers for Chatsworth House's 'The Nutcracker' theme! You can see a clip featuring our dancersby clicking here!

December.. and here we are! On our fourth venue of the tour (Queen's Hall Arts Centre) and getting fantastic feedback from wonderful audiences. You can see the trailer for the showby clicking here and we look forward to bringing The Jungle Book to more venues in 2017!
MARCH was spent looking ahead to our Summer 2016 tours of Macbeth and Much Ado About Nothing. We held auditions, recalls and cast the show!

APRIL Our mini-tour of 50 minute Romeo and Juliet went out to schools with workshops. We had some wonderful feedback "The level of energy, chaos and comedy hit exactly the right note for the four year groups and I know the memory of watching this production will stay with them all far beyond their GCSE studies."Back in the office, it was pre-production month for rehearsals, buying a lot of steam-punk clothing and military berets.
JULY sparked the beginning of an exciting new project for us at Chatsworth House providing costumed characters for the House and Garden at this prestigious Derbyshire venue, home to the Duke and Duchess of Devonshire. Meanwhile, the Much Ado and Macbeth tour continued - 23 performances this month..
SEPTEMBER saw Elli continue to write The Jungle Book script and we auditioned and recalled actors! Costume and design meetings ahead of The Jungle Book...

OCTOBER was the rehearsal and tour of theBard's Best Bits of Romeo and Juliet to schools and libraries across the midlands! Over 1000 people saw the show in libraries alone and we were delighted to be able to offer these free performances to local communities with thanks to West Midlands Libraries and Arts Council England.
All that's left for us to say is a huge thank-you for another year of your support! We've loved sharing stories with you this year: whether you've seen us at a theatre, in a library, at a stately home or a school! We look forward to seeing what 2017 will bring as we head into our 28th year...Merry Christmas and a Happy New Year from all at Oddsocks!